About Drukair - Royal Bhutan Airlines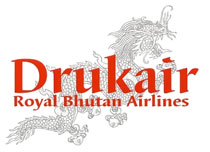 Resting deep in the cradle of the Himalayas is a magical kingdom with beautiful scenery and fantastic history. It's not a fairy tale but a wonderful visual delight waiting for you to come and visit. The peaks of the mountains are high and steep, but you don't have to climb over them. You can fly through the air on the wings of a Drukair flight to reach this beautiful Shangri-La.
Druk national carrier of the Royal Government of Bhutan and we will lift you over the mountains in either an Airbus A319 or an ATR 42-500. Our flights come out of nine cities and we are expanding our hubs to accommodate the growing number of tourists who want to experience this country. We will treat you like royalty and your flight will be a as much a pleasure for you as serving you is a pleasure for us. Come and be our guest as Drukair brings you to a land that time seems to have forgotten but you will never forget.
The Royal Bhutan Airlines (Drukair), is the national carrier of the Royal Government of Bhutan, operating to nine cities in six countries. Since 2006, DrukAir operates two Airbus A319 and one ATR 42-500. Druk Air operates daily flights to Bangkok and regular flights to Delhi, Kolkata, Kathmandu, Dhaka, and most recently in 2009, Bogdogra and Gaya.

Drukair's IATA Code is KB.
Weekly Drukair Flight Schedule
Travel Tips when flying with Drukair
Due to the geographical location and operating challenges out of Paro airport in Bhutan, flights are severely dependent on weather conditions. Schedule timings are subject to change without prior notice. Travelers are therefore, requested to check with Drukair offices or its agent for the latest information. Drukair reserves the rights without assigning any reason to cancel, reschedule, or overfly or delay the commencement or deviate from the route of the journey.
Drukair Corporation Ltd. Headquarter
Royal Bhutan Airlines, Nemeyzampa,
Paro, Bhutan
Tel:
+975-8-271856
+975-8-271857
+975-8-271858
Book your discounted tickets to Bhutan with Druk Asia.
Druk Asia is the ticketing agent, GSA, of Druk Air. Discount is usually only applicable for booking via ticketing agent.