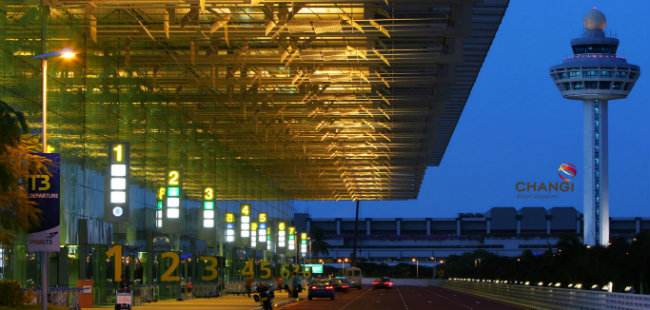 Drukair has signed memorandum with Changi Airport to start its direct flight between Singapore and Bhutan on 17th May 2012. Singapore Bhutan flight commenced on 1st September 2012 with twice a week schedule.
Paro - Singapore
Wednesdays & Saturdays
| FLIGHT NO. | FROM | TO | DEPART | ARRIVAL | ACFT |
| --- | --- | --- | --- | --- | --- |
| KB500 | PARO (PBH) | KOLKATA (CCU) | 0720 | 0800 | A319 |
Singapore - Paro
Thursdays & Sundays
| FLIGHT NO. | FROM | TO | DEPART | ARRIVAL | ACFT |
| --- | --- | --- | --- | --- | --- |
| KB501 | SINGAPORE (SIN) | KOLKATA (CCU) | 0600 | 0735 | A319 |
Flights from Singapore to Bhutan are expected to take 5 hours with a 45-minute refuelling stopover in Kolkata. As passengers do not disembark during the refuelling, Vias to enter India is not require for passengers who are traveling to Paro. The flight will usually depart Changi Airport around 630 am in the morning.
Druk Asia as the official ticketing agent of Drukair, Royal Bhutan Airlines, would be working with industry partners, such as major hotel chains and bespoke travel agencies to offer unbeatable travel packages and tours to Bhutan. Keep up with our webpage to read the latest news on Singapore - Bhutan route.
Read more about Singapore Paro direct flights at Drukair Singapore website.
Airbus A319 to service Paro-Singapore Route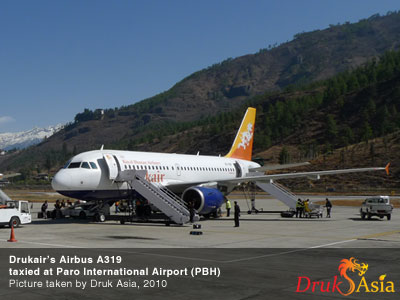 The new Paro (PBH) - Singapore (SIN) route will be serviced by the Airbus A319 in a 118-seat configuration comprising of 16 business class seats and 102 economy class seats.

Read more about Drukair's fleet of air crafts
The entire flight is expected to be only about 5 hours, saving travellers from the region up to 12 hours. In the mean time, Bangkok is still the most convenient port of entry in Bhutan. Druk Air departs daily from Bangkok into Bhutan.
Read about the Best Time to Visit Bhutan & Bhutan Visa Application Procedures & Requirements
Checkin and transit information
Drukair's check-in counter is located at Terminal 1, row number 10. The counter is open about 2.5 hours before departure. The counter would be closed about 45 minutes before departure. We would encourage you to report for their flight about 1 and half hour before departure at the minimum.
If you are on transit to Paro, Bhutan, on KB501 should proceed to Changi Airport Terminal 1 Transfer Lounge D to collect their boarding pass. Transfer Lounge D is opened 2 hours prior to flight departure. You can read more about the facilities and services which are available to you while transiting in Singapore on Changi's website.
Check out Drukair's latest flight schedule til 25th October 2014
- Drukair Flight Schedule for 15 May 2013 - 26 Oct 2013
- Drukair Flight Schedule for 27 Oct 2013 - 29 Mar 2014
- Drukair Flight Schedule for 15 Mar 2014 - 25 Oct 2014