Drukair has signed memorandum with Changi Airport to start its direct flight between Singapore and Bhutan on 17th May 2012. Drukair is currently planning to fly to Singapore twice a week. Commencement of direct flight is postponed to September as of 3rd February 2012.

Latest Update on 6th February 2012
Singapore-Paro flights to start on 1st September 2012!
Expected schedule for Singapore - Bhutan is as follow:
Paro - Singapore
Wednesdays & Saturdays
| FLIGHT NO. | FROM | TO | DEPART | ARRIVAL | ACFT |
| --- | --- | --- | --- | --- | --- |
| KB500 | PARO (PBH) | KOLKATA (CCU) | 0720 | 0800 | A319 |
Singapore - Paro
Thursdays & Sundays

| FLIGHT NO. | FROM | TO | DEPART | ARRIVAL | ACFT |
| --- | --- | --- | --- | --- | --- |
| KB501 | SINGAPORE (SIN) | KOLKATA (CCU) | 0600 | 0735 | A319 |
Flights from Singapore to Bhutan are expected to take 5 hours with a 45-minute refuelling stopover in Kolkata. The flight will usually depart Changi Airport around 6 am in the morning.
Further details on airfares and booking procedures are expected to be finalized by the end of February 2012. Booking for this route will only be opened then.
Druk Asia as the official ticketing agent of Drukair, Royal Bhutan Airlines, would be working with industry partners, such as major hotel chains and bespoke travel agencies to offer unbeatable travel packages and tours to Bhutan. Keep up with our webpage to read the latest news on Singapore - Bhutan route.
Read more about Singapore Paro direct flights at Drukair Singapore website.
Airbus A319 to service Paro-Singapore Route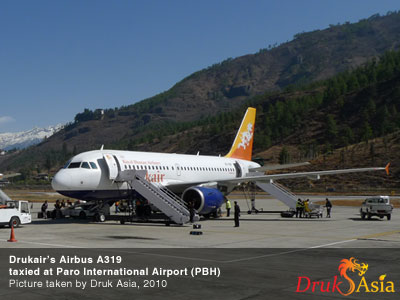 The new Paro (PBH) - Singapore (SIN) route will be serviced by the Airbus A319 in a 114-seat configuration comprising of 20 business class seats and 94 economy class seats.

Read more about Drukair's fleet of air crafts
The entire flight is expected to be only about 5 hours, saving travellers from the region up to 12 hours. In the mean time, Bangkok is still the most convenient port of entry in Bhutan. Druk Air departs daily from Bangkok into Bhutan.
Read about the Best Way to Get to Bhutan & Bhutan Visa Application Procedures & Requirements
Check out Drukair's latest flight schedule til 27th October 2012
- Drukair Flight Schedule for 01 February 2012 - 14 May 2012
- Drukair Flight Schedule for 15 May 2012 - 27 October 2012
Druk Asia is the ticketing agent of Druk Air, Royal Bhutan Airline in Singapore.
You can contact us at +65 6338-9909 or send us enquiry or email to info@drukasia.com
Book your discounted tickets to Bhutan with Druk Asia.
Druk Asia is the ticketing agent, GSA, of Druk Air. Discount is usually only applicable for booking via ticketing agent.