We have compiled a list of blogs by our travellers for your reference.
In each blog, our travellers presented their experience, perspectives and insights to their trip to Bhutan.
We hope this will be a useful reference for you while you plan your trip to Bhutan.
December 2011 | 11-Day Cutural Tour Bhutan Travel Plan
Kenny travelled to Bhutan with Druk Asia from 8 to 18 December 2011.
Nearing mid-day, we arrived at Dochula Pass, where 108 Stupas were built by Her Majesty, the Queen Mother, in honour of His Majesty the 4th King and his people to commemorate their victory in the war fought in 2003 in Southern Bhutan. As we approached the pass, our driver put his palms together in reverence, a testament to the strong Buddhist roots of the Bhutanese.
Bhutan: Nalakang Tshechu - Highlight of Bhutan Trip
Bhutan: Tamshing Goemba
A first taste of Bhutanese Cuisine
Bhutan: Chimi Lhakhang - A scenic hike
Read more of "Stuff I eat, photos I love, places I've been. And musings." trip to Bhutan
November 2011 | Samtengang Trek
Gilda travelled with Druk Asia from 26 November to 4 december 2011. She completed the Samtengang Trek in 2 days. The following is an excerpt from her trip report. The highlight of my travel in Bhutan is completing Samteygang trek. Bhutan is a great place for hiking / trekking. Samteygang Trek is considered low altitude and one of the easiest winter trek. The highest point is 3720m.....

Read more of Gilda's trip to Bhutan
August 2011 | Singapore Business Federation - Bhutan Business Mission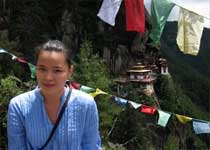 Bhutan. That intriguing little country with a population of about 700,000, wedged between China and India... August 2011 and there I was, 22 years old, with the opportunity of a lifetime, to visit this mystical, hard-to-get-into country. Or so I thought.

When my father found out that my mum and I were going to Bhutan on a business trip, he passed us an old book about Bhutan. The only taste of the country I'd get before I flew there. This book fed me some extremely old facts and figures, so for all of you intending to go there, I'd suggest a more...

Read more of Bianca Brand's Official Blog - Beautiful Bhutan
August 2011 | 5 Days Essential Bhutan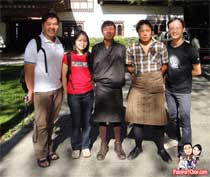 Of all the tours we had experienced around the world, the tour guide service we experienced in Bhutan is definitely the best! DrukAsia had arranged Lhawang Dorji and Tenzing to be our guide and driver respectively for this 5-day trip (see picture - third from left is Lhawang and to his left is Tenzing). It is the attention paid to the small details that really impressed us.

Our guide, Lhawang is very knowledgeable in all matters to do with Bhutan - ask him about the concept of Gross National Happiness in Bhutan and he would be more than happy to discuss it with you. Any facts you want to know on Bhutan or just about anything about Bhutan, he should be able to help you with it and if he can't, he would Google it on the road ...
Debunking 3 Myths on Travel in Bhutan – Cost, Travel Restrictions and Weather
Land of the Thunder Dragon Bhutan Trip Summary
Practising Yoga in Bhutan
Introduction to Bhutanese Cuisine – Spicy and Flavorful
Read more of PassportChop - Land of the Thunder Dragon Bhutan Trip Summary
July 2011 | 7 Days Magical Bhutan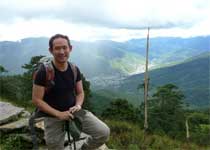 This whole idea of making the trip on my own was always going to be iffy. Will I be bored to tears....well I guess this attempt at a first ever blog might give a clue.

It was a bloody early start - 5.30am at the BKK check-in counter of Druk Air for the 6.50am flight. Tip for fellow travellers...do give it time cos there will be people checking in light bulbs, fridges, WCs, and all sorts of non-living paraphernalia imaginable. And if you're flying in from Singapore to connect, try to avoid staying at the Airport Hotel tempting as it may sound. SGD250 for a 5hr kip is a bit of a price gouge. ...
Day 1 in Bhutan | Day 2 in Bhutan | Day 3 in Bhutan | Day 4 in Bhutan | Day 5 in Bhutan | Final and the return
Read more of Bhutan Wander - 7 Days Magical Bhutan
November 2010 | 5 Days Essential Bhutan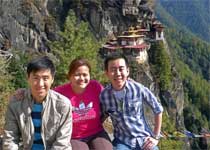 It was still dark. The alam clock read 4:30AM. Having just arrived in Bangkok the night before from a roadtrip down to Udon Thani from Laos, my mind was still in a murky haze. My companions sleeping in the other bed seemed oblivious to the loud ringing sound emanating from my phone. This was the day we're flying to Bhutan - the country famously isolated by the Himalayas, where Gross National Happiness is prioritized over economic growth and where the king famously abdicated voluntarily in order to initiate a move to a constitutional monarchy. We were all trying to catch an early morning flight to Paro - Bhutan's only airport, aboard DrukAir, the only airlines that fly to Bhutan.

Having been to several flights the days prior, my plan was just to go to sleep as the plane cruised its way past Burma, India and into Bhutan. But alas, the pilot made an announcement about Kangchenjunga (3rd highest mountain), and then Mt Everest being visible at the left side of the plane. I opened the window and there they were - a few snow-capped peaks towering above the clouds. It also meant that our approach at Paro Airport was coming soon. The plane descent into Bhutan that came fifteen minutes later has got to be the best plane landing ever ....
In Pursuit of (Gross National) Happiness, Part 1
In Pursuit of (Gross National) Happiness, Part 2
In Pursuit of (Gross National) Happiness, Part 3
In Pursuit of (Gross National) Happiness, Part 4
Bhutan: Hassle-Free Tips
Read more of I Wander - In Pursuit of (Gross National) Happiness


Have you written a Bhutan travel blog of your trip? Tell us about it!